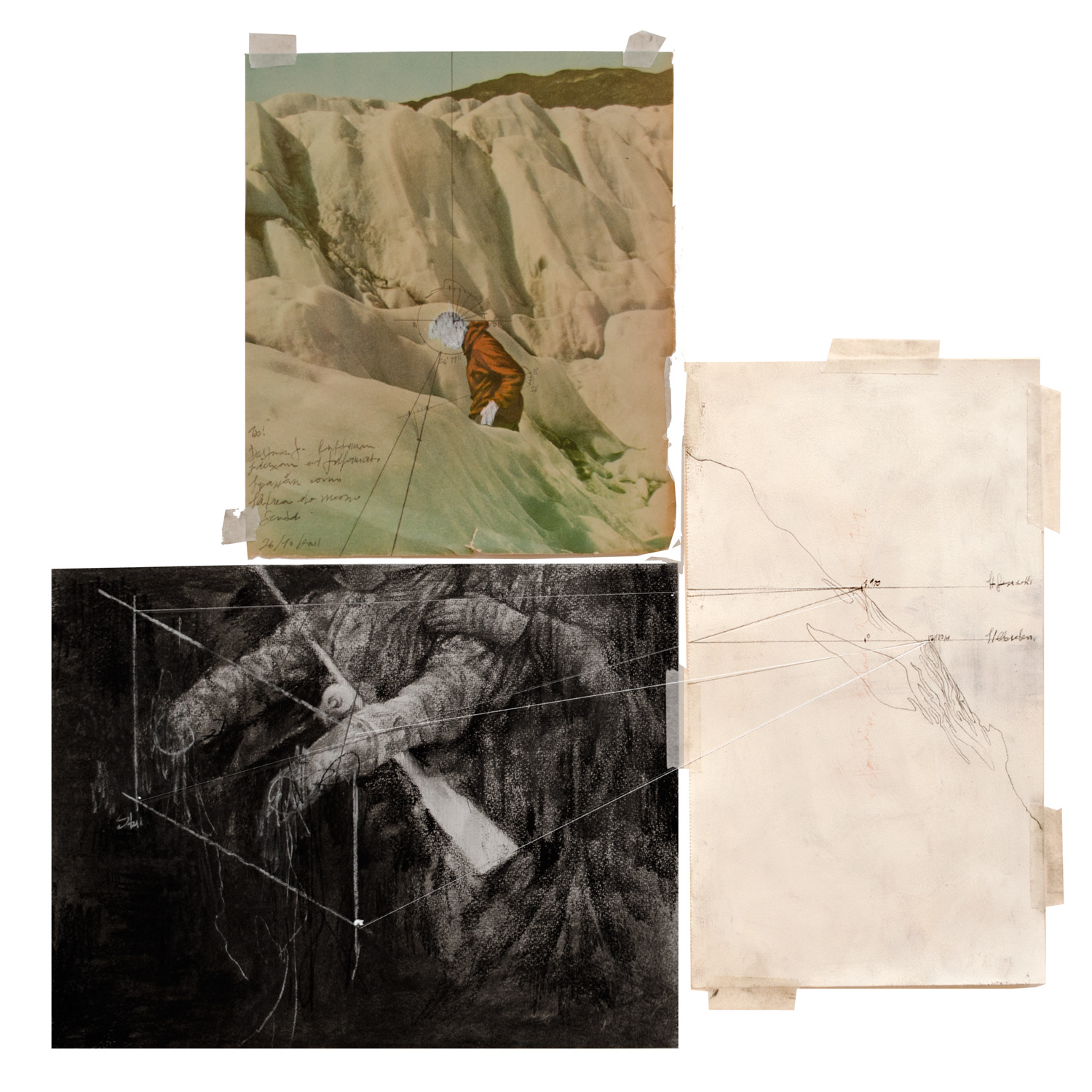 Esquemas para um futuro possível, 2013 
<
 scroll down for english version >
A pesquisa feita na cidade de Haapajärvi ( Finlãndia), propõe a reconstrução de cenas forjadas pelos veículos de inteligência e comunicação Finlândeses durante o maior período de guerra no país, a Winter War (1939). Os fatos pesquisados vem sendo revelados pouco a pouco, atravéz de entrevistas locais, coleta de dados e documentos em diversos locais públicos e privados inloco. Uma série de notícias, propagandas, matérias de TV e rádio foram sistematicamente expostas durante os anos (pós-guerra) pela mídia do país, construindo um intrincada rede de informação que permeia uma série de sistemas midiáticos. A pesquisa ainda envolve o desaparecimento misterioso de 3 oficiais do exercito Finlãndes durante o processo da segunda guerra mundial, os registros originais são contestados pelas falhas de informação na forma de montagens de situações, contidas nos veículos de mídia oficial - A  proposta sugerida é a de olhar de uma forma diferente, mais residual, re-pensando o que pode ser validado como História oficial, forma que é reproduzida a anos sem contestação registrada. Através do embate com diferentes estórias orais coletadas nos locais, propõe-se uma tentativa de se revelar outras possíveis situações que apontem uma construção histórica alternativa da que é considerada como validada pela história que conhecemos.
---

Vantaa ll (tríptico) da série,  Esquemas para um futuro possível / 2014.
grafite, guache, conté, nankim e colagem sobre papéis e documentos apropriados antigos (1942)- 85 x 55 cm 
Schemes for a possible future, 2013
The research done in the city of Haapajärvi (Finland), proposes the reconstruction of scenes forged by intelligence vehicles and Finnish communications for the longest period of war in the country, the Winter War (1939). The researched facts has been revealed little by little itself by local interviews, data collection and documents in various private and public places inloco. A series of news, advertisements, TV and radio materials were systematically exposed over the years (post-war) by the country's media, building an intricate network of information that pervades a number of media systems. The research also involves the mysterious disappearance of three officers of the Finnish army during the process of World War II, the original records are challenged by information gaps in the form of assembly situations, contained in official media outlets - The suggested proposal is to look in a different way, more waste, re-thinking what can be validated as official history, a way which is repeated years without a registered contestation. Through the encounter with different collected oral stories in local, it proposes an attempt to reveal other possible situations that point an alternative historical construction of that is considered as validated by the history we know.
Vantaa ll (triptych) series, Schemes for a possible future / 2014
graphite, gouache, conté, nankim and collage on old proper papers and documents (1942) - 85 x 55 cm