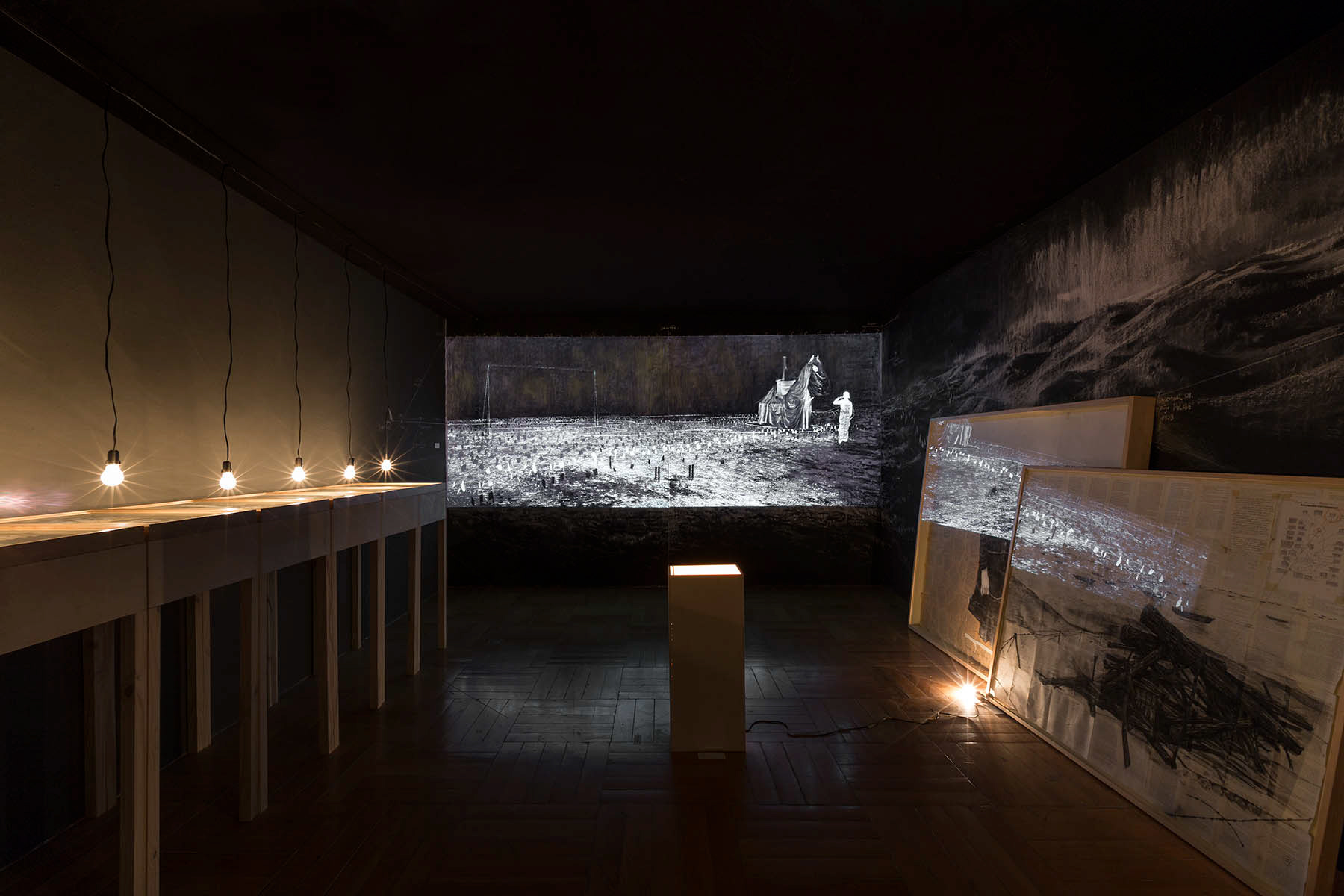 Planos em secção_ Exposição individual / Temporada de Projetos / Paço das Artes / SP_2014
<
 scroll down for english version >
[Grafite, giz, carvão sobre papel usado, jornal antigo, folha de revista antiga, documentos e objetos apropriados, livro em branco, estruturas em madeira, instalação elétrica e projeção em parede / dimensões variáveis]. texto de Josué Mattos.
fotos_Ding Musa / pictures_Ding Musa
------------
O Projeto Planos em secção, foi pensado e desenvolvido em residência na cidade de Hämeenkyrö e Jyväskylä na Finlândia em 2013. A Pesquisa parte da idéia da possibilidade de se enxergar algo macro através da percepção da presença do micro. As duas cidades são exemplos de micro-estruturas usadas para se entender uma macro-estrutura - Macro e micro funcionam interligadas, são sistemas onde sua única função é a repetição de sua existência, que acontece incessantemente em seu processo até ocorrer a falha, inevitável a qualquer tipo de sistema. Através da criação de situações fictícias(realidades) baseadas em fatos redescobertos nestas cidades, e que são recontados sistematicamente de geração em geração por descendentes dos primeiros habitantes deste país, foi notado que a cada vez que este fato acontecia, uma parte da historia era alterada, da mesma forma que um Fluxo de correlações se apresenta, seu crescimento ocorre de forma exponencial, e é neste ponto que a falha se introduz, pois esta alteração é a falha em si. Foi feita uma reestruturação de elementos apropriados in loco através de uma coleta de dados (detalhes que apareciam nas histórias contadas) de acontecimentos incompletos encontrados em revistas de diferentes épocas, periódicos que repetem a mesma notícia de 3 em 3 anos sem ter uma conexão lógica, ou crianças que nascem simultaneamente em diferentes partes da região falando dialetos extintos e depois se esquecem, fatos sem explicação registrados por anos, que pareciam deslocados. Todo este levantamento foi feito em bibliotecas locais, antiquários, lojas de objetos usados, em casas particulares, entrevistas com moradores, e uma outra parte, via sites de busca públicos, acessíveis facilmente. Todos estes dados foram cruzados, o material reunido esta correlacionado de forma estranhamente organizada, e que se assemelha a Teoria do Caos de Ilya Prigogine, onde ocorre uma organização espantosa dentro do que chamamos de Caos.  
Plans in Section_ Solo exhibition / Season Projects / Paço das Artes / SP_2014
curatorial text - Josué Mattos.
[Graphite, chalk, charcoal on used paper, old newspaper, old magazine sheet, documents and appropriate objects, blank book, electrical wiring and projection wall / variable dimensions].
The Project Plans in section was thought and developed during a residency at Jyväskylä and Hämeenkyrö, Finland, in 2013. The point of departure is the idea of being able to see the macro dimension through the perception of micro. Both cities are examples of micro-structures used to understand a macro-structure - Macro and micro work interconnected, they are systems where their primary function is the repetition of their existence, held continuously until it fails, as inevitably happens to any type of system. The series is based on facts researched in these cities, through oral histories (placed here by means of historical documents). These historical fragments systematically passed down from generation to generation by descendants of the first inhabitants of that country. It was noticed that each time a fact happened, a part of history was changed by whom tells it, creating a chain of narrative ruptures. The work rearticulates locally appropriated elements, collected both in interviews and from articles of press outlets from different years. Unexplained facts, recorded for large periods of time, which seemed out of place, somewhat disconnected or simply random: for instance, the repetition of the same news along years simply changing some details; or the event of children from different places speaking extinct dialects and then forgetting them. The research was conducted in local libraries, antique shops, thrift shops, private homes, in interviews with residents; in addition to internet search, employed to feature and compare the easily accessible information. This sort of private archeology points at an organization that resembles the Ilya Prigogine's Chaos Theory.