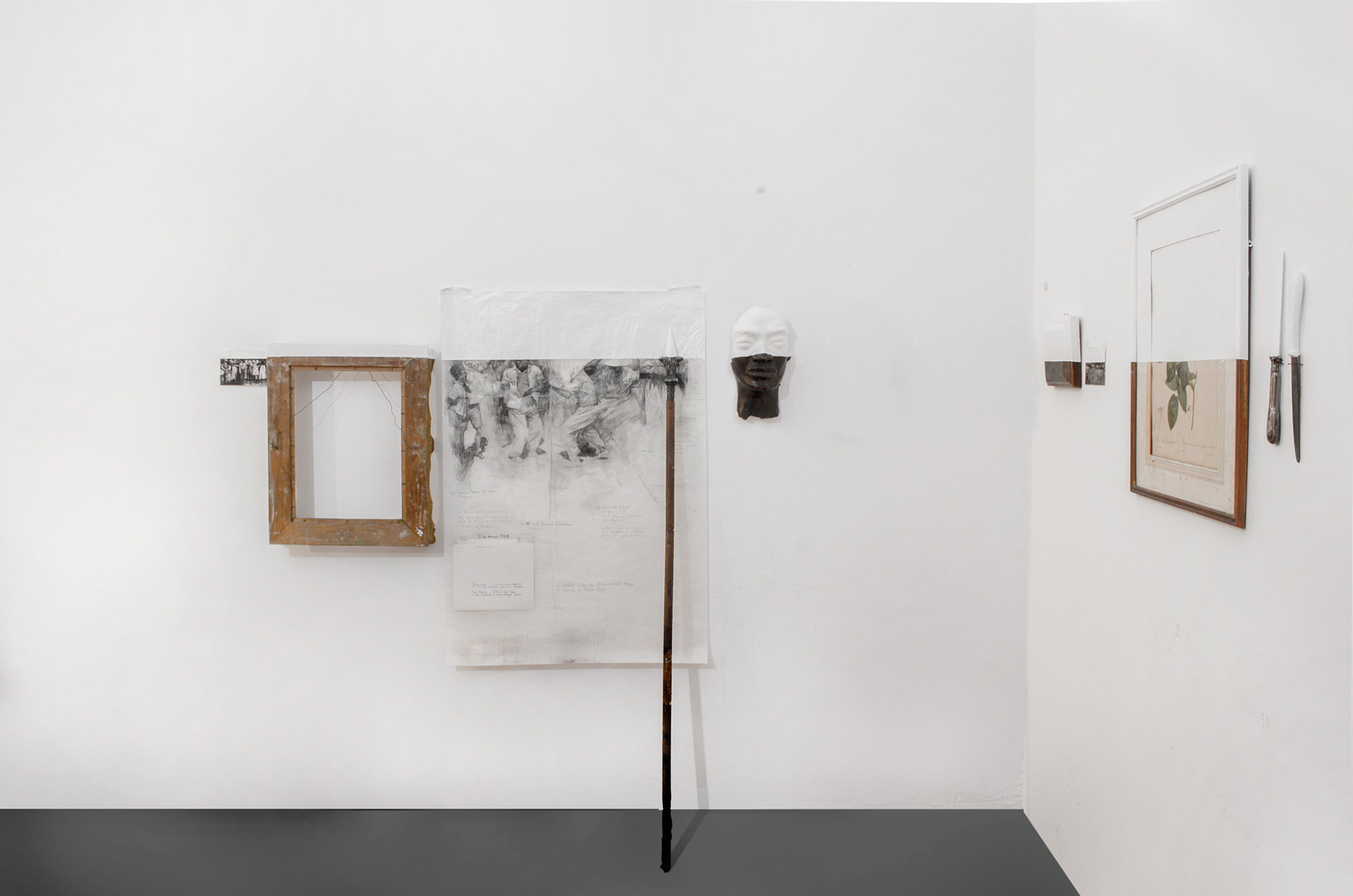 Estruturas para fronteiras invisíveis, 2016.
A série é uma pesquisa em andamento desde 2015, que procura rearticular antigas narrativas sobre os períodos de imigração em São Paulo, a partir de uma desconstrução de narrativas tidas como oficiais, contidas em materiais de ensino público e privado. O livro Retalhos da Velha São Paulo (Geraldo Sesso Junior) é utilizado até hoje como material e fonte de pesquisa para alunos de história em escolas públicas e particulares de São Paulo, mostrando uma visão caricata, positivista e equivocada sobre o advento da imigração nas cidades de São Paulo, apagando fatos importantes ocorridos ali, que mudaram os rumos do desenvolvimento paulista, além de deixar marcas profundas culturais e religiosas. A pesquisa buscou através de alguns "personagens" citados no livro, uma investigação do ponto de vista destes que foram também atores deste processo histórico, fundamental nesta construção. Os trabalhos tem em sua base arquivos orais coletados durante os meses de pesquisa nestes redutos de imigração, aparecem sob a forma de fragmentos perdidos, objetos, documentos, fotos, entre outros, que foram trocados por objetos pessoais do artista, esta ação é simbólica e funciona como um vinculo imediato, que é o motor importante do trabalho ( nota: o que é oferecido, é aceito - Os povos ameríndios de diversas partes do mundo tem neste ato da troca uma significação de contato e relação de confiança) e ampliando as possibilidades de entendimento de uma história apagada por narrativas e discursos estabelecidos pelo poder do Estado( se fazendo valer do ensino) e do processo capitalista. Silêncio nas indústrias Órion S/A, Milicianos no Largo da Concórdia, Cruzeiros e Santas Cruzes, Dito das Graças entre outros, nomeiam algumas obras desta série, que são uma espécie de retrato expandido de cada caso, de cada estória contada e recontada sucessivas vezes. Os trabalhos são pintados com um pigmento branco da linha do horizonte para cima, sugerindo uma espécie de anulação, de apagamento, de embranquecimento onde acima desta linha tudo deixa de existir. ou foi apagado para que se possa agora seguir para o proximo passo, e assim sucessivamente como um cômodo de uma casa ou um recinto comum, que ao operar esta ação abre espaço para o "novo", onde a cor branca simboliza entre muitas coisas, este modelo estético predominantemente ocidental que também higieniza de forma fria e efetiva.
Structures for invisible boundaries

,

2016. 
is an ongoing research since 2015, which seeks to reorganize old narratives about initial periods of immigration in São Paulo / Brazil from a deconstruction of narrative taken as contained in official public and private teaching materials - The book

Snips of Old São Paulo

(Geraldo Sesso Junior) is used today as material and research source for history students in public and private schools in São Paulo, showing a caricature, and positivist quite mistaken view about the advent of immigration in the cities of São Paulo, erasing important facts that occurred there, that changed the course of the São Paulo development in addition to leaving cultural and religious deep marks. The research sought through some "characters" mentioned in the book, an investigation of their real stories that were lost in public archives, local informal and personal files of several families, direct descendants of the characters mentioned in the book of Geraldo Jr. Gesso. In this way the oral files collected during the months of research in these immigration corridors, today preserve lost fragments, in the form of objects, documents, photos, among others and that were exchanged for other personal objects of the artist who carries with him a small museum - this action is symbolic and functions as an immediate link, which is the important motor of the work (note: what is offered, it is accepted - Amerindian people from different parts of the world have in this act of exchange a meaning of contact and trust relation ) And expanding the possibilities of understanding a history erased by narratives and discourses established by the state power.
 

Silence in industries Orion S / A, Militiamen in Largo Concordia, Cruises and Holy Crosses, Dito das Graças

, among others, nominate some works from this series, which are a kind of expanded portrait  in each case, stories told and retold successive times.The works are painted with a white pigment, in horizon line upwards, suggesting a kind of annulment, of erasure, of whitening where above this line all ceased to exist. or has been deleted, so that it could start "from zero", as the living room of a house, that when operating this action opens up space for the new, where the white color symbolizes among many things, this predominantly Western aesthetic model which also cleans in a cold and effectively manner.