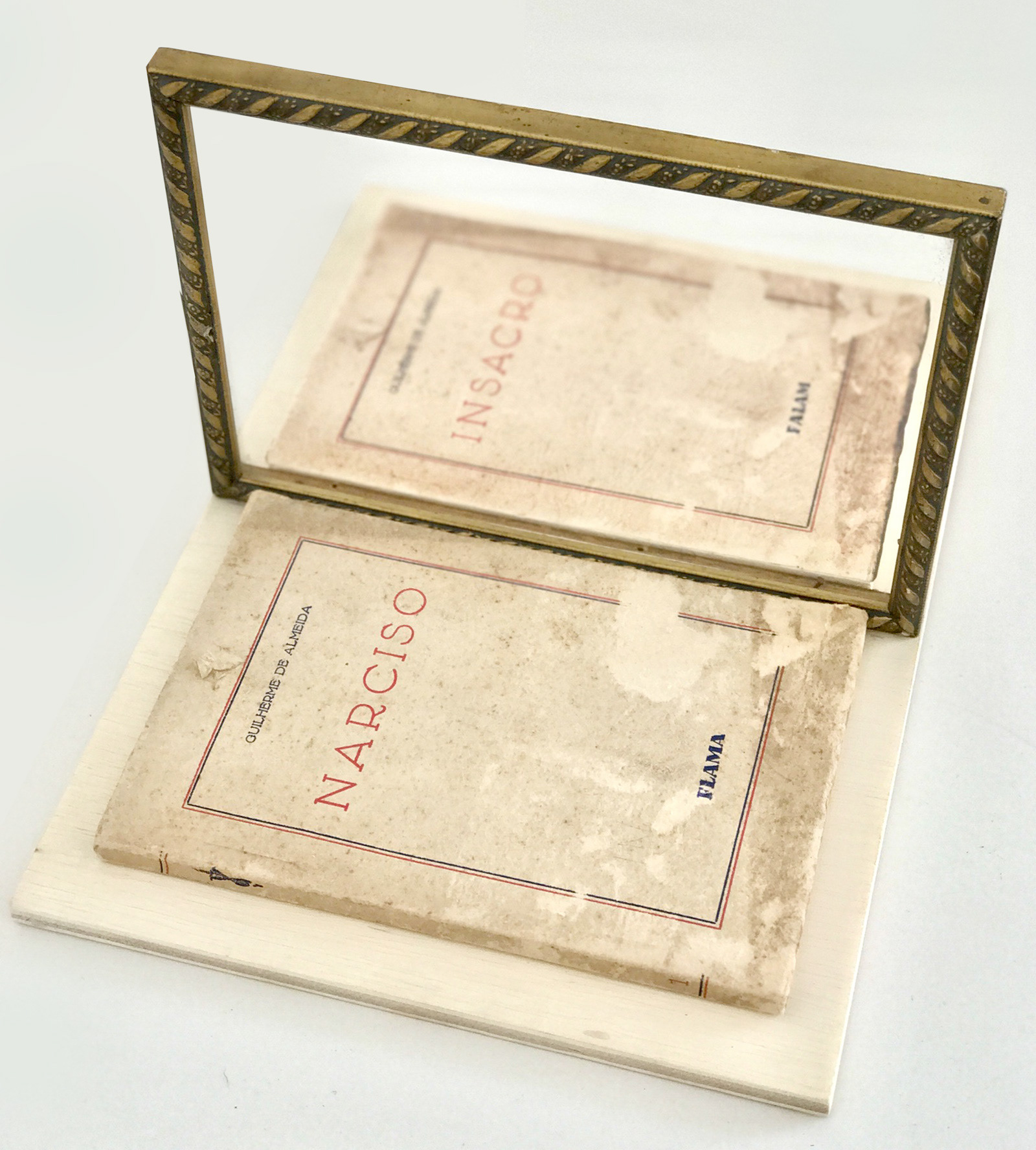 Projecão, Insacro / 2017
<

 scroll down for english version >
estrutura de madeira, livro antigo, impressão a cores e moldura antiga. / 40x20x25cm                                                                                                                             
Trabalho produzido para o projeto CONTEMPLATION ROOM & LIBRARY OF LOVE / 

CONTEMPORARY ARTS CENTER, CINCINNATI, USA
 de Sandra Cinto.
Biblioteca do Amor é uma exposição dentro da instalação com curadoria de Cinto que apresenta o trabalho de mais de 200 artistas de todo o mundo. Cada um foi convidado a produzir um livro / objeto que refletisse a qualidade e a complexidade do amor em suas diversas formas, desde as famílias, o romance e as relações humanas até a da natureza, dos animais e das nações. Como objetos a serem tocados e histórias a compartilhar, esta biblioteca dialoga com o objetivo maior de Cinto de canalizar o significado da palavra 'contemplação' na língua portuguesa - transcender a meditação solitária a fim de oferecer uma experiência compartilhada onde damos e somos presentes um para o outro. Ao refletir sobre o que nos torna fundamentalmente humanos, a artista propõe implicitamente um remédio às políticas e ideologias que dividem.
Steven Matijcio, curador, Contemporary Arts Center, Cincinnati, EUA
Projection, Insacrus / 2017


wooden structure, old book, color printing and old frame. / 40x20x25cm
Work produced for the CONTEMPLATION ROOM & LIBRARY OF LOVE / CONTEMPORARY ARTS CENTER, CINCINNATI, USA project by Sandra Cinto.
Biblioteca do Amor is an exhibition within the installation curated by Cinto that presents the work of more than 200 artists from all over the world. Each was invited to produce a book / object that reflected the quality and complexity of love in its various forms, from families, romance and human relationships to that of nature, animals and nations. As objects to be touched and stories to share, this library dialogues with Cinto's main objective of channeling the meaning of the word 'contemplation' in the Portuguese language - transcending solitary meditation in order to offer a shared experience where we give and are present one to the other. When reflecting on what makes us fundamentally human, the artist implicitly proposes a remedy for the policies and ideologies that divide.


Steven Matijcio, curator, Contemporary Arts Center, Cincinnati, USA